Here is a list of some of the new releases for the week of April 23rd, 2017.  Since there were so many books this week, I am going to divide them between the next three days. Here is day three of that list.  Hope you find some selections for your weekly reading.  Enjoy and happy reading.
HER BROTHER IS NO BARGAIN
When Sarah Winston s estranged brother Luke shows up on her doorstep, asking her not to tell anyone he s in town especially her ex, the chief of police the timing is strange, to say the least. Hours earlier, Sarah s latest garage sale was taped off as a crime scene following the discovery of a murdered Vietnam vet and his gravely injured wife her clients, the Spencers.
BUT IS HE A KILLER?
All Luke will tell Sarah is that he s undercover, investigating a story. Before she can learn more, he vanishes as suddenly as he appeared. Rummaging through his things for a clue to his whereabouts, Sarah comes upon a list of veterans and realizes that to find her brother, she ll have to figure out who killed Mr. Spencer. And all without telling her ex . . .
Praise for the Sarah Winston Garage Sale Mysteries
There s a lot going on in this charming mystery, and it all works . . . Well written and executed, this is a definite winner. Bargain-hunting has never been so much fun! "RT Book Reviews, " 4 Stars on "All Murders Final!"
Full of garage-sale tips . . . amusing. A solid choice for fans of Jane K. Cleland s Josie Prescott Antique Mystery series. "Library Journal "on "Tagged for Death""
 (Goodreads)
When 92-year-old poet/sleuth Victoria Trumbull takes her city-bred tenant Zack Zeller on a nature walk on one of Martha's Vineyard's conservation areas and shows him a mushroom she calls black trumpet of death, he's sure he's found the way to rid himself of his troublesome girlfriend, Samantha. But the mushrooms he's given Samantha end up on her daddy's dinner table, and Zack, one of the invited guests, is sure he's doomed the diners to an untimely death.
Meanwhile, dead bodies are cropping up on the Island. The police have questions about the identity of the culprit and call upon Victoria Trumbull, who knows the Island and its inhabitants intimately. Will she be able to find the truth and clear the name of someone close to her before the murderer finds its next victim?
In addition to giving us more of the eccentric cast of characters and quirky plot we love, Trumpet of Death, the 13th book in Cynthia Riggs' Martha's Vineyard mystery series, describes in loving detail little-known parts of the Island that visitors seldom see. (Goodreads)
-The perfect weekend getaway: crafting, food, and a murder or two!- —New York Times bestselling author Lynn Cahoon
Settling into her new life and career in small-town Indigo Gap, North Carolina, Cora Chevalier is preparing to host a -wildcrafting- retreat at her Victorian home. But a specter hangs over the venture when beloved local nanny Gracie Wyke goes missing. Amidst leading their guests in nature hikes, rock painting and making clay charms, Cora and her business partner, Jane, team up with Gracie's boyfriend, Paul, to launch their own investigation into her disappearance when the local police prove unhelpful.
Cora and her crafters take Paul in, believing he is in danger and not the suspect police have made him out to be. However as they uncover new clues and a body turns up at a local abandoned amusement park, Cora and Jane begin to question their decision. With more questions than answers arising, is Cora crafty enough to untangle a knot that could put an innocent in jail–and permanently destroy her reputation?
Praise for Mollie Cox Bryan's Mysteries
-Scrapbookers and hobby cozy fans will enjoy this delightful holiday escape.- —Library Journal on A Crafty Christmas
-Light and full of positive solutions… A great entry in a fun series.- –RT Book Reviews on Death of an Irish Diva
-A font of ingenuity…superb entertainment.- —Mystery Scene Magazine on Scrapbook of Secrets
Includes crafting tips!
 (Goodreads)
~
~ON SALE AT THE PRE-ORDER PRICE FOR A LIMITED TIME~~
When Ricki is invited to appear on a new regional talk show to promote her latest book, she declines, of course. After coming face-to-face with a killer while working on her first case, all she wants is to go back to living a normal life, and that doesn't include public appearances. But her agent and publisher have other plans and insist that she does the interview.On the day of the show, the host turns up missing. Once again, Ricki finds herself investigating a murder. This time, things are personal. Old friends and lovers come back into her life. A saboteur lurks in shadow, wreaking havoc on Ricki's career by leaking embarrassing details of her private life. What's more, she was the last person to see the victim alive. Things look bad for Ricki unless she can find the real murderer before she's accused of a crime she didn't commit.
(Goodreads)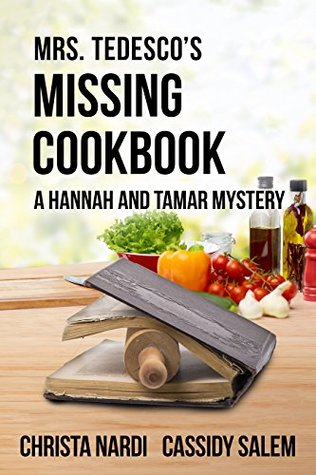 A simple request opens up a savory mystery.
Hannah never imagined her high school service project with the elderly would draw her into another mystery. Mrs. Tedesco, a lonely widow who loves to bake, has just one request — that the teen retrieve her cookbook from her old house. Easier said than done. The house has been ransacked and the coveted cookbook is nowhere to be found. Eager to help the woman, Hannah and her sister, Tamar, are driven to locate the cookbook and uncover its secrets. But the teens aren't the only ones seeking the cookbook's hidden treasures, and the other side is playing for keeps. (Goodreads)
I am Mandrake.
I have vowed to inflict a creeping retribution on my old friend and colleague, Thomas.
I wager you believe that I am in the wrong. I only ask that you carefully study these five transcripts before passing judgement.
Perhaps 'old' Thomas had it coming to him – you decide…
Featuring a foreword by the man himself – Mandrake!
(Amazon)
The latest in the USA Today bestselling Southern Ghost Hunter series!
Southern girl Verity Long is about as high society as her pet skunk. Which is why she's surprised as anyone when the new head of the Sugarland social set invites her to join the "it" girls. But this is no social call. Verity's new client needs her to go in undercover and investigate strange happenings at the group's historic headquarters.
But while spirits are whispering hints of murder, the socialites are more focused on Verity's 1978, avocado-green Cadillac. And when Verity stumbles upon a fresh body, she's going to need the long-dead citizens of Sugarland to help her solve the crime. Good thing she has the handsome deputy sheriff Ellis Wydell on hand, as well as her ghostly sidekick Frankie. The bad thing is, the ghosts are now whispering about the end of a certain ghost hunter. (Goodreads)