Here is a list of some of the new releases for the week of April 30th, 2017.  Since there were so very many books this week, I am going to divide them between four days.  Here is the third day of the list.  Hope you find some selections for your weekly reading.  Enjoy and happy reading.
Local artist Penny Brannigan has been spending her summer painting Gwrych Castle and its surrounding landscapes. A privately owned, castellated Welsh country house, Gwrych has been sadly neglected for decades and is in a heartbreaking state of disrepair. So when she learns architectural historian Mark Baker is leading a team of enthusiastic volunteers to restore the castle grounds and gardens to their former grandeur, Penny is thrilled.
But it's not long before disagreements over the restoration turn deadly, and Penny is horrified to discover the body of a volunteer hidden in a castle outbuilding. Penny enlists her friend Gareth Davies, recently retired from the North Wales Police Service, to help investigate. As the two dig deeper into the castle's history, including its glamorous heyday in the 1920s, they find startling connections between an old, unsolved murder and Gareth's own family, and as they solve the present-day murder, Penny recovers a stunning piece of the castle's architectural heritage.
Murder Is for Keeps is the latest book in the charming, traditional Penny Brannigan mystery series. (Goodreads)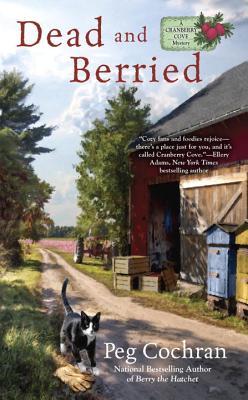 It s hive time for murder in the latest Cranberry Cove mystery from national bestselling author Peg Cochran.
It's June in Cranberry Cove and Monica Albertson's plan to sell cranberry relish to chain stores is taking off. The cranberry bogs are in bloom, and local beekeeper Rick Taylor and his assistant Lori Wenk are bringing in bees to pollinate the blossoms. When a fatal prick fells Lori, the buzz is that Rick is to blame.
In trying to clear her friend s name, Monica discovers that more than a few people in Cranberry Cove have felt the power of Lori s venom, and it looks as if this time she may have agitated the hive a bit too much. With the fate of the farm on the line, Monica must get to the bottom of the crime before another victim gets stung." (Goodreads)
Contrary to popular belief, not everyone in Nashville is an aspiring country music star. Campbell Hall, for one, just wants to get her travel agency off the ground and move on from a break-up. But when she gets the opportunity to visit the mansion of mysterious country icon Jake Miller, she jumps at the chance. After all, who knows what clues are lurking around the long-dead star's last home?
But as Campbell pokes around, she discovers more than a few sequined suits and priceless memorabilia. She finds Hazel Miller, Jake's widow, quietly resting in a bedroom on the main floor. But Hazel might just be dead quiet. And Campbell might just be the last person to have seen her alive.
Juggling the twisty plots of high-profile country stars with her blossoming business–not to mention the tattered remains of her love life–Campbell thinks she's got everything figured out. But when the danger becomes personal, she must uncover a killer who will stop at nothing to get what they want–or face the music.
With Your Killin' Heart, award-winning author Peggy O'Neal Peden has given us a witty debut full of Nashville charm and generous heart. (Goodreads)
In the latest mystery from the author of Better Homes and Corpses and Hearse and Gardens, Hamptons interior designer and antiques picker Meg Barrett uncovers a veil of spooky goings-on…
The first Sag Harbor Antiquarian Book and Ephemera Fair is right around the corner, and interior designer Meg Barrett has her hands full decorating rooms at the Bibliophile Bed & Breakfast for wealthy rare book collector Franklin Hollingsworth. Rumor has it Hollingsworth is in possession of an unpublished manuscript written by F. Scott Fitzgerald. When the Fitzgerald manuscript's authenticator is found dead at the bottom of a cliff, Meg suspects a killer is on the loose.
Rare books start disappearing from the B & B and Meg sees a connection between the stolen books and the deceased authenticator. With the fair looming, she finds herself caught up in catching a killer and thief before another victim is booked for death.
INCLUDES RECIPES AND DECORATING TIPS (Goodreads)
From USA Today bestselling author Ellie Ashe comes a boxed set of three full-length mysteries featuring sassy sleuth Miranda Vaughn. This boxed set includes the first three novels in the #1 bestselling series, including:
Chasing the Dollar
When Miranda Vaughn was arrested for a fraud scheme she didn't commit, she lost her job at a prestigious investment firm, her fiancé, and her reputation. Determined to uncover the truth about who set her up, Miranda begins her own investigation—leading her to Macau and Belize, and into the arms of one sexy FBI agent, who may or may not prove to be trustworthy.
Dropping the Dime
Assistant to her former defense attorney isn't Miranda Vaughn's dream job, but her first task is a simple one—protect a CFO turned informant and help her prove embezzlement. But what should be a straightforward assignment is complicated when Miranda is thrown together with a hot FBI agent who saved her life, broke her heart, and then disappeared.
Lucky Penny
Miranda Vaughn's nice boring accounting job spirals out of control with the addition of a Hollywood film crew, an underground gambling ring, and her hot FBI agent neighbor, Jake, going undercover at the resort as a newlywed—with another woman.
Miranda Vaughn Mysteries:
Chasing the Dollar (book #1)
Dropping the Dime (book #2)
Lucky Penny (book #3)
Chasing Tinsel (holiday short story)
One Red Cent (short story in the Killer Beach reads collection)
"An engaging read full of mystery and deception."
~ Fresh Ficiton
"High stakes, high energy, and a highly humorous good time!"
~ Gemma Halliday, New York Times bestselling author   (Amazon)
Beth has been keeping secrets from her beloved son, refusing to tell him who his father is. When an unforeseen tragedy takes him from her, she is compelled to face the demons she has been running from all these years. She has come full circle, and with nothing left now but her memories and her knowing, the need for revenge scratches inside her veins. Lady Beth is an urban thriller.  (Amazon)
GENES TO DIE FOR—AND SOMEONE DOES…
When Jessica James wakes up half naked behind a dumpster in downtown Chicago, she thinks at first the hot intern feeding her Fiery Mule Slammers slipped her a Mickey. But after a pattern of similar incidents around Northwestern Research Hospital, Jessica realizes she wasn't raped, she was robbed. Robbed of something as valuable as life itself. Hunting for the predator drugging and dumping Ivy League co-eds, Jessica discovers secrets about her own identity that force her to rethink her past. The solution to the mystery lies in the cowgirl philosopher's boot-cut genes.
The "dumpster girls" are all top of their class, attractive college girls, who are drugged and dropped unconscious behind dumpsters. The police are baffled. But the perp doesn't stop there—one of his victims turns up dead. Armed with her quick wit and cowgirl grit, Jessica takes it on herself to solve the bewildering medical mystery and save herself and her friends… before they become the next grisly victims.
At Jesse's beck and call is her longtime confidante Jack Grove, an easy-going stoner and brilliant third-year medical student in abnormal psychiatry, who has a secret crush on her. But while Jack is trying to understand the criminal mind, his classmate and rival, Max White, is trying to eliminate it through genetic engineering. Competing for Jessica's attention, Jack and Max become the primary suspects. Meanwhile, Max has a secret of his own: he's aiding a prominent Chicago woman in her fertility woes. And just for good measure, there's a blackmailer afoot.
Grittier than its predecessors, and far more haunting, Kelly Oliver's third page-turning Jessica James adventure blends a smartly-funny and delightfully complex murder mystery with a touch of medical thriller, in which Jessica and Jack battle biological crimes at the hands of a unique—and menacing—thief.
(Amazon)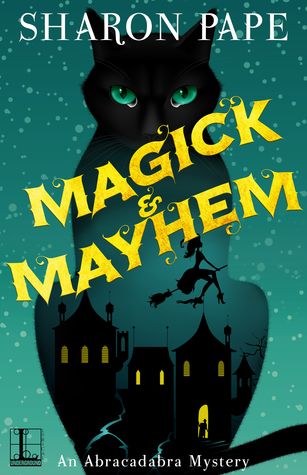 What's in a murderer's bag of tricks?
Twenty-something Kailyn Wilde has learned to embrace her unpredictable life as a descendant of small-town New Camel's most magickal family. She just didn't expect to inherit her mother and grandmother's centuries-old shop, Abracadabra, so suddenly. The surprises keep coming when Kailyn goes to finalize the estate at the local attorney's office—and stumbles over the body of her best friend Elise's husband . . .
As a brash detective casts the blame on Elise, Kailyn summons her deepest powers to find answers and start an investigation of her own. What with running a business, perfecting ancient spells, and keeping up with an uninvited guest of fabled origins, Kailyn has her hands full. But with the help of her uncanny black cat Sashkatu and her muumuu-clad Aunt Tilly, she's closing in on a killer—who will do anything to make sure she never tests her supernatural skills again!
"Pape has a sure‑handed balance of humor and action." —Julie Hyzy, New York Times bestselling author (Goodreads)