Magick & Mayhem
An Abracadabra Mystery, Book #1
Sharon Pape
5 Stars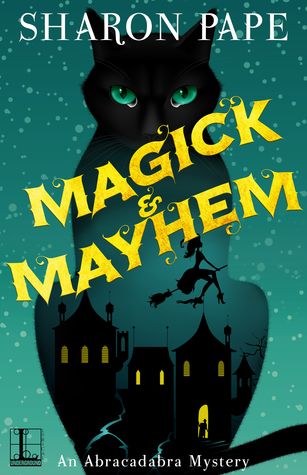 Synopsis:
What's in a murderer's bag of tricks?
Twenty-something Kailyn Wilde has learned to embrace her unpredictable life as a descendant of small-town New Camel's most magickal family. She just didn't expect to inherit her mother and grandmother's centuries-old shop, Abracadabra, so suddenly. The surprises keep coming when Kailyn goes to finalize the estate at the local attorney's office—and stumbles over the body of her best friend Elise's husband . . .
As a brash detective casts the blame on Elise, Kailyn summons her deepest powers to find answers and start an investigation of her own. What with running a business, perfecting ancient spells, and keeping up with an uninvited guest of fabled origins, Kailyn has her hands full. But with the help of her uncanny black cat Sashkatu and her muumuu-clad Aunt Tilly, she's closing in on a killer—who will do anything to make sure she never tests her supernatural skills again!
"Pape has a sure‑handed balance of humor and action." —Julie Hyzy, New York Times bestselling author (Goodreads)
Review:
Kailyn inherited her mother and grandmother's magick shop when they were both taken suddenly.  Her aunt Tilly is her only remaining relative and together they are trying to put their lives back together.  When they stumble across the body of their lawyer, their lives take another twist.  Kailyn decides she is going to solve the mystery before her friend, the deceased's wife, takes to the blame and gets put away in jail.
The characters are well developed and well rounded.  Kailyn is smart and loyal and inquisitive.  She is a good friend and a good niece.  She tries very hard to not display her magick to others, as she has been taught from her mother and grandmother.  But sometimes a girl just cannot help herself.  Aunt Tilly is feisty and you never know what she may say or do, and neither does Kailyn.  The secondary characters also add a lot to the story, including a love interest for Kailyn.
The author is very talented in her descriptive writing and through much of the book I felt like I was right there, watching all the action take place.  I could picture the magick shop and all of the mysterious items it contains.  I love when an author can take me away from reality and into the world that they have created, and that is exactly what happened in this book.  
The writing style flows smoothly and the book is a quick easy read.  The mystery was carried on well throughout the entire book, and with so many suspects to consider and clues to sift through, I was unable to figure out the culprit until it was revealed at the end.  That is another plus in my book.
I would recommend this well crafted cozy to anyone who enjoys a book with great characters, a solid mystery, humor and a little bit of paranormal (the paranormal is not overpowering), all blended together perfectly.  I have read another one this author's cozy mystery series, A Portrait In Crime Mystery, and I really enjoyed it.  I am so happy that she is writing a new series and I cannot wait to read future books.  
I received a free copy of this book from NetGalley in exchange for a honest review.  I would like to thank NetGalley and Kensington Books for the opportunity to read and review this great book.