Here is a list of some of the new releases for the week of May 7th, 2017.  Since there were so very many books this week, I am going to divide them between three days.  Here is the first day of the list.  Hope you find some selections for your weekly reading.  Enjoy and happy reading.
Looking for a new cozy mystery author to love? Dive in to this collection of excerpts from the Minotaur Books/St. Martin's Press Spring/Summer 2017 season (books published from late April to August). The Cozy Case Files collection includes:
Trumpet of Death by Cynthia Riggs
Sticks and Bones by Carolyn Haines
Murderous Mayhem at Honeychurch Hall by Hannah Dennison
Love & Death in Burgundy by Susan C. Shea
Your Killin' Heart by Peggy O'Neal Peden
Gone Gull by Donna Andrews
Dog Dish of Doom by E.J. Copperman
Enforcing the Paw by Diane Kelly
Cat About Town by Cate Conte
A Crime of Passion Fruit by Ellie Alexander  (Amazon)
Fleeing from the witch trials in Salem, Terra Rowan finds herself in modern day Asheville, North Carolina. A dark spirit from the past hunts the last witch of Salem. With the help of the ladies of the Biltmore Society, Terra must discover the secret within the forest to preserve the bloodline. (Goodreads)
Donut Mystery #31, Cranberry Crimes, from New York Times Bestselling author Jessica Beck!
When Suzanne Hart is commissioned at the last minute to make donuts for a long-time customer's birthday party, she happily complies, but when the guest of honor dies before the party can even begin, Suzanne taps Grace, Jake, and even Phillip to help her solve Jasper Finney's homicide before the killer gets away with murder.  (Goodreads)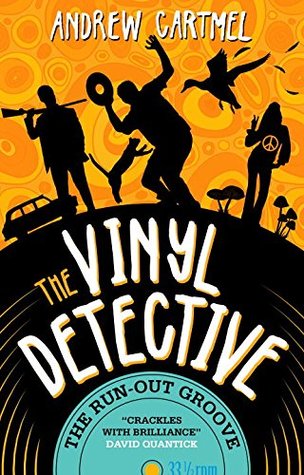 His first adventure consisted of the search for a rare record; his second the search for a lost child. Specifically the child of Valerian, lead singer of a great rock band of the 1960s, who hanged herself in mysterious circumstances after the boy's abduction.
Along the way, the Vinyl Detective finds himself marked for death, at the wrong end of a shotgun, and unknowingly dosed with LSD as a prelude to being burned alive. And then there's the grave robbing…(Goodreads)
Mystery author Rachel Goldman is getting used to the idea that her fictional creation Duffy Madison has somehow taken flesh-and-blood form and is investigating missing person cases not far from where Rachel lives. Wait. No. She's not getting used to it at all, and the presence of this real-life Duffy is making her current manuscript—what's the word?—lousy.
So she doesn't want to see Duffy—the living one—at all. To make matters worse, when he shows up at her door and insists on talking to her, it's about the one thing she doesn't want to do: Find a missing person. But the man Duffy seeks this time around might be able to solve Rachel's problem. He might just be the man Duffy was before he became Duffy five years ago. The only problem is she could be letting Duffy lead her into danger yet again…
Entertaining and witty, the second in E.J. Copperman's Mysterious Detective Mystery series Edited Out will delight his fans, both new and old.   (Amazon)
Dust mops are deadly in this "irresistible" (Minneapolis Star Tribune) and "wickedly witty" (Chicago Sun-Times) cozy mystery featuring the beloved Ellie Haskell—the signature heroine of Agatha Award nominee Dorothy Cannell.
When the ever-scrupulous and ever-caustic Mrs. Roxie Malloy leaves her employ in tears, Ellie Haskell—busy mother of twins—is forced to find another cleaning person. As she searches for someone who can at least aspire to taking Mrs. Malloy's place, Ellie turns the household topsy-turvy, overcome with spring-cleaning fever. But when members of the Chitterton Fells Charwomen's Association (C.F.C.W.A.) start biting the dust, Ellie swaps scrubbing for sleuthing to find out what dark secrets have been swept under the rug.
With the help of her husband, Ben, her feckless cousin Freddy, and an assortment of homemade cleaning solutions, Ellie joins the C.F.C.W.A.'s roster and embarks on a brief stint as a mercenary maid—just long enough to snoop through her neighbors' things and find out which one has more than dust bunnies and dirty dishes to hide.
Praise for The Spring Cleaning Murders
 
"Irresistible . . . Pick up [The Spring Cleaning Murders] and let the dust bunnies lie where they fall."—Minneapolis Star Tribune
"Wickedly witty . . . outrageous plotting."—Chicago Sun-Times
 
Praise for Dorothy Cannell and the Ellie Haskell series
"A thoroughly entertaining series."—Cosmopolitan
 
"It is the absurd predicaments of her central characters that readers find themselves recalling, and Cannell is cunning at devising outlandish situations for them."—Chicago Sun-Times
"Cannell is a master of subtle wit and humorous asides that lift her cozies to great heights. Before the influx of writers trying to out-humor Janet Evanovich, there was Dorothy Cannell. Long may she write!"—Library Journal
(Amazon)
ABOUT THE BOOK
Laura and Gerry are at it again. Death finds them close to home when a tenant is found in the dumpster behind their apartment building. Laura is thrust into the "who killed Denny?" mystery while she does battle with a tenant and dodges a school janitor. The life of a college student is never boring but she wishes it would be!
Dead Men Don't Swing is a biting, funny, deliciously bawdy and fast-paced murder mystery in which "death by sexual misadventure and a wayward poisonous snake" (among other things) make for pure entertainment gold."  (Amazon)