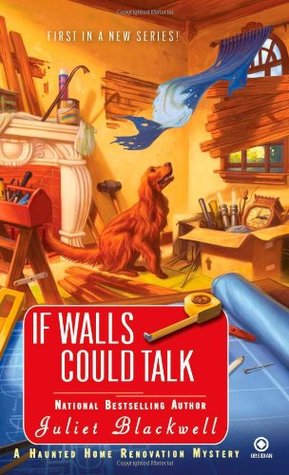 Synopsis:
Melanie Turner has made quite a name for herself remodeling historic houses in the San Francisco Bay Area. But now her reputation may be on the line.
At her newest project, a run-down Pacific Heights mansion, Mel is visited by the ghost of a colleague who recently met a bad end with power tools. Mel hopes that by nailing the killer, she can rid herself of the ghostly presence of the murdered man-and not end up a construction casualty herself… (Goodreads)
Review:
The characters are well developed and well rounded.  I thought Mel was a no-nonsense woman who can handle almost anything.  I really enjoyed her spunk and her take-charge attitude.  I also enjoyed reading about her relationship with her dad and her step-son. Graham seemed like a great guy and I am interested to see if a relationship grows between them.  
The writing style flows smoothly and the book is an easy read.  The author is very talented in her descriptive writing and through most of the book I felt like I was right there, watching all the action take place.  At times I felt like the descriptions were a little too wordy and detailed, especially concerning the house construction and renovation.  I found myself skimming parts of the book that dealt with those.  That is only my opinion and other readers may not agree with me.
The mystery was well thought out and moved along nicely.  There were enough suspects to consider and clues to sift through that it was not easy to figure out the culprit.  I would have liked a little more interaction with the ghost, especially in helping to solve the mystery.  Although this was a paranormal book, the ghostly parts were rather few and far between.  Again, that is only my opinion and other may not agree.
I would recommend this book to anyone who enjoys cozy mysteries.  With great characters and a well plotted mystery, I am looking forward to reading the next book in the series.