Here is a list of some of the new releases for the week of July 2nd, 2017.  I am going to divide the list into two day. Here is the second day of my list for this week.  Hope you find some selections for your weekly reading.  Enjoy and happy reading.
From the New York Times bestselling author of Between a Book and a Hard Place comes the latest Devereaux's Dime Store Mystery–and it packs a bite.
Opening up a dime store in her hometown of Shadow Bend, Missouri, Devereaux "Dev" Sinclair thought she'd left the wilds of city life behind her. But she's about to discover that even rural life can be beastly. . . 
Handsome private investigator Jake Del Vecchio has rented the office space on the second floor above Devereaux's dime store, and Dev now finds herself embroiled in his first case, which involves Gabriella Winston, the missing wife of wealthy philanthropist Elliot Winston.
Elliot is determined to open a wildlife park on the edge of town but is facing all sorts of angry opposition–including Gabriella. After the Winstons have a bitter fight, Gabriella disappears, and their house is ransacked. The authorities are quick to claim Elliot killed his wife, but Dev's not so sure. One thing is certain: Claws are out in Shadow Bend. . . . (Goodreads)
When in Rome…
The warning signs are everywhere, but will Jill realise in time? An unexpected visitor may be her only hope.
… do eat the custard creams.   (Goodreads)
**$2.99 Pre-order Sale. Regularly $4.99*** From USA TODAYBestselling Author Harper Lin
Something wicked is feeding off the living in a secluded part of Wonder Falls. In the farmlands, the police find the body of a local named Archie Jones. People jump from "Suicide Bridge" fairly frequently, but the Greenstone witches think something is peculiar about Archie's death. With no marks on his body and horse tranquilizer in his system, they suspect murder.
When Cath, Bea, and Aunt Astrid visit the farm, however, they discover something more twisted and sinister than plain old human murderers…
Un-fur-tunate Murders is the 6th novel in this popular paranormal mystery series featuring modern-day witches and their magic cats. (Goodreads)
Newly appointed police inspector Domenic Jejeune doesn't mind ruffling a few feathers. Indeed his success has elevated him into a poster boy for the police. The problem is Jejeune doesn't really want to be a detective at all; he much prefers watching birds.
Recently reassigned to the small Norfolk town of Saltmarsh, located in the heart of Britain's premier birding country, Jejeune's two worlds collide with the grisly murder of a prominent ecological activist. His ambitious police superintendent foresees a blaze of welcome publicity, although doubts soon emerge when Jejeune's best theory involves a feud over birdwatching lists. A second murder does little to bolster confidence.
Jejeune must call on all his birding knowhow to solve the mystery and deal with unwelcome public acclaim, the mistrust of colleagues and his own insecurities. For, in the case of the Saltmarsh birder murders, the victims may not be the only casualties… (Goodreads)
FBI Special Agent Serena Jones arrives on Martha's Vineyard with her family, ready for a little bit of R&R and a whole lot of reminiscing as they celebrate the engagement of an old family friend. But crime doesn't take a vacation, and she's soon entangled in an investigation of a suspicious death tied to an antiquities smuggling ring.
When her investigation propels her into danger, Serena must stay the course and solve this case before anyone else dies. But just how is she supposed to do that when the two men in her life arrive on the scene, bringing with them plenty of romantic complications–and even a secret or two?
Award-winning author Sandra Orchard keeps readers guessing with this fast-paced mystery laced with romance.   (Goodreads)
Meera Patel is in a funk after vindicating herself of Prudence Walker's murder. Then she runs into another dead body by the lake. A young man is found dead with a piece of pie in his pocket. And unfortunately, the pie came from Sylvie's cafe.
Everyone loved Jordan Harris, a young rancher who just got engaged to his lady love Jessica. But someone hated him enough to murder him. When Sylvie's cafe comes under the radar, Meera and friends pitch in to solve the crime.
A new fancy diner has opened up opposite Sylvie's. No one wants to eat Sylvie's tainted pie anymore. Meera and Motee Ba resolve to do anything necessary to help Jon and Sylvie. The Patel men aren't too crazy about the idea of course.
Is it the handsome but devilish older brother, the spinster sister, the old man or the girl friend that wanted to harm Jordan? Or is someone else lurking behind the shadows? As Meera talks to people, new secrets are revealed every time. The holidays and term end draw close and Meera will need to up her game if she wants her friends and family to have a happy Christmas.
Book 2 of the Meera Patel Cozy Mystery series promises a fast paced page turner with plenty of clues, red herrings and suspects to keep the reader guessing. Anyone could have killed Jordan but who dun it?
*includes yummy recipes like Meera's Mutton Curry and Cheese Pakoras  (Amazon)
Can this relationship be saved? Maybe not!

A deputy sheriff from a long line of hunters, an apprentice witch from a long line of sorcerers~what can they possibly have in common? Never mind~Shane McAllister and Haley Greco will ride this lovely wave as long as they can make it last.
In the meantime, they're each working to clean up the strange town of Moonhaven with its Alice in Wonderland themes and its oddball inhabitants, trying to solve a few murders and find out what happened to Haley's missing family. If only Haley's grandmother—the one who brought her back from the dead—wouldn't always seem to be the guilty party. Just what is she planning, anyway? A Mad Hatter's game of Musical Chairs?  (Goodreads)
In New York Times bestselling author Victoria Laurie's newest Psychic Eye mystery, Abby Cooper has one rule to follow: don't panic!
Professional psychic and FBI consultant Abby Cooper has used her inner visions to get her out of many a scrape—and solve many a crime—but she's about to face a murder scene that will put all her powers to the test. Abby's husband Dutch has a side business providing security and building panic rooms for wealthy clients. One morning, one of Dutch's partners, Dave, goes missing on his way to meet a client. Abby's intuition tells her something terrible has happened to him.
Then two of Dutch's clients are found brutally murdered…inside their brand new panic room, and most of the evidence points to Dave as the killer.  With the authorities racing to find and arrest him, Abby's got to use all her intuitive prowess to get to Dave first, discover the real killer, and save her husband's business. This is one case where Abby is positive there's far more to this mystery than meets her inner eye…  (Goodreads)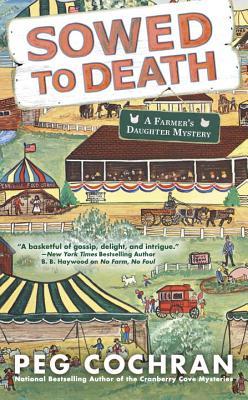 In the latest Farmer s Daughter Mystery from the national bestselling author of No Farm, No Foul, farm owner and blogger Shelby McDonald must field another murder mystery….
The county fair is the highlight of the year for the small town of Lovett, Michigan especially for food-and-lifestyle blogger Shelby McDonald, who writes as the Farmer s Daughter. She s submitting jams and jellies she s created from the produce she grows at Love Blossom Farm in hopes of harvesting a blue ribbon.
But the townspeople get more than just the excitement of hayrides, tractor pulls, and cotton candy when Shelby s neighbor and volunteer fireman, Jake Taylor, extricates the body of Zeke Barnstable instead of a dummy during a demonstration of the Jaws of Life. The fact that Jake and Zeke were known to be at odds plants suspicion in the minds of the police. As evidence against Jake grows, Shelby knows she has to plow through the clues to weed out the true killer and save her friend." (Goodreads)