I am so happy to be hosting a Author Spotlight and Giveaway for K. A. Davis.  She is going to be releasing her very first book, Game of Deceit, on August 1st.  Many of you may know Kim from her fantastic blog, Cinnamon & Sugar And A Little Bit Of Murder, which is a great blog.  Now she is the author of a great mystery.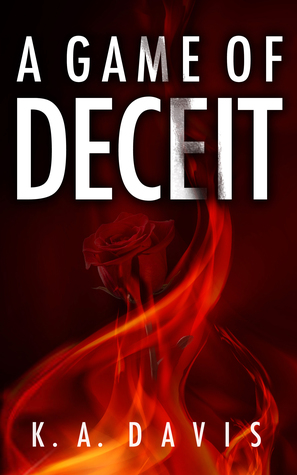 A father's disappearance never solved, a mother's secret taken to the grave, a daughter deceived…
Kathryn Landry thinks her life is just about perfect. She is the owner of a successful interior designer business in Newport Beach, California, and she has an attentive, supportive husband. But her world comes crashing down when her husband, Neil Landry, vanishes without a trace… in a situation almost identical to the disappearance of her father twenty years before.
With her father's disappearance still a mystery, Kathryn is skeptical that the detective assigned to her case will be able to find her husband. Determined to uncover the truth, Kathryn is plunged into a world of politics, high-priced call girls and wealth. As she begins to search for her husband, a decades-old secret her mother took to the grave threatens to destroy all she holds dear. Caught up in a web of betrayals and deceit, and not knowing who to trust, Kathryn must find a way to survive as she discovers the past has a way of repeating itself.

"…Davis deftly keeps readers as up in the air as Kathryn throughout this well-crafted tale. An impressive thriller by an author worth following." – Kirkus Reviews
"In A Game of Deceit author K. A. Davis offers up a taut, edge-of-your-seat suspense novel that will make you lock the doors, close the blinds, and wonder who you can truly trust. Don't miss this great debut from Ms. Davis." – Paige Shelton, New York Times Bestselling author of the Farmers' Market, Country Cooking School, Dangerous Type, and Scottish Bookshop mysteries.
"In A Game of Deceit, K. A. Davis has crafted an emotional suspense with a taut, satisfying ending that should delight any fan of Mary Higgins Clark." – Daryl Wood Gerber, Agatha Award-winning author of the Cookbook Nook, French Bistro Mysteries, and Cheese Shop Mysteries, and the stand-alone suspense novels, GIRL ON THE RUN and DAY OF SECRETS.
"Sly, sexy and spellbinding, A Game of Deceit grabs you in the first chapter and doesn't let you go until its breathtaking finish. Debut author K. A. Davis creates a riveting tale of betrayal, family, suspense and murder." – Jenny Kales, author of The Callie's Kitchen Mystery series
"A Game of Deceit is a marvelous read packed with action, suspense and intrigue. I couldn't put it down!" – Catherine Bruns, USA Today Best Selling Author of the Cookies & Chance mysteries   (Goodreads)
My Review:
The characters are well developed and well rounded.  Katherine is a strong gutsy woman who does not let anything get her down.  Except when her husband disappears, that has thrown her for a loop.  This is the second person that has disappeared from her life: her father disappeared about twenty years ago.  She cannot believe that it has happened to her again.  But she is not totally alone.  She has her assistant, Marianne, and her husband, Richard, to help her try to get her life back on track.  And she also has her client/friend, John, to help her.  He just so happens to be a private investigator.  She is very upset when she learns that the detective who was on her father's case is also on her husband's case.  He could not find her father, she does not have high hopes of him finding her husband.
The author is very talented in her descriptive writing and through much of the book, I felt like I was right there, watching all the action taking place.  She is also very talented in creating suspense and tension with just the written book.    I found myself swiping pages late into the night, when I should have been sleeping.  I felt the tension rising with every chapter I finished.  I could feel Katherine's frustration not knowing what happened to her husband and not knowing who she could trust.  There were quite a few viable suspects and enough clues to sift through that it was difficult to figure out the mystery.  I narrowed it down to four likely culprits (I know that is not very narrow) and I was not even right!
I would highly recommend this book to anyone who enjoys a well crafted suspense thriller.  It is hard to believe this is the debut book for this author, It is good enough to have been written by a well established author.  I am eagerly looking forward to reading more of this author's books.
*****Through August 15th, 2017, 100% of the net sales from this book will be donated to rettsyndrome.org*****
About The Author:
K. A. Davis lives in Southern California with her husband, near wildfire country. During the Portola Hills fire in October 2007, she had to evacuate her two young granddaughters, one of whom has Rett Syndrome, as a wall of flames crept towards their home. Thankfully, due to the brave efforts of firefighters, their neighborhood was spared and no loss of life or property occurred. She was inspired by this ordeal to create a suspenseful scene in her debut novel.
She writes the Cinnamon, Sugar, and a Little Bit of Murder blog and has had several children's articles published in Cricket, Nature Friend, Skipping Stones, and the Seed of Truth magazines. K. A. Davis is a member of Mystery Writers of America and Sisters in Crime.
Kim has graciously agreed to give away a free copy of her book A Game Of Deceit.  To be eligible to win, leave a comment on this blog, not my Facebook page.  I will randomly pick a winner later tonight (between 8 and 9 PM EST.)  Remember, you MUST leave a comment on THIS BLOG to be eligible to win.  Be sure to leave your email address so I know how to get a hold of the winner.  It will be winner's choice of print or e-book, with print limited to U.S. only.
Good luck and Happy Reading!!!!!!!!!
*****I would really like to thank Kim for agreeing to the giveaway and for writing such a great book.   And don't forget,  through August 15th, 2017, 100% of the net sales from this book will be donated to rettsyndrome.org*****