Here is a list of some of the new releases for the week of July 9th, 2017.  I am going to divide the list into three days.  Here is the third and final day of my list.  Hope you find some selections for your weekly reading.  Enjoy and happy reading.
In this electrifying new thriller in the New York Times bestselling series, a convicted murderer is on the run and Chief of Police Kate Burkholder must catch him before he strikes again.
Eight years ago Joseph King was convicted of murdering his wife and sentenced to life in prison. He was a "fallen" Amish man and, according to local law enforcement, a known drug user with a violent temper. Now King has escaped, and he's headed for Painters Mill.
News of a murderer on the loose travels like wildfire and putting Chief of Police Kate Burkholder and her team of officers on edge. A nightmare scenario becomes reality when King shows up with a gun and kidnaps his five children from their Amish uncle's house. He's armed and desperate with nothing left to lose.
Fearing for the safety of the children, Kate leaps into action, but her frantic search for a killer leads her into an ambush. When King releases her unharmed, asking her to prove his innocence, she begins to wonder whether the police are hiding something, and she embarks on her own investigation to discover the truth.  (Goodreads)
"Rose Pressey's books are fun!" Janet Evanovich
Elly Blair serves up food at Mystic Cafe with a pinch of magic and a dash of love. Detective Tom Owenton with the National Organization for Magic needs Elly's help at another magical cafe in Texas. The road trip from Kentucky to Texas leads to a stolen spell book and magic gone awry.
"If you like Charlaine Harris and Janet Evanovich you might like Rose Pressey too."
For fans of witch mysteries, cozy mysteries, paranormal mysteries with a touch of humor,
amateur sleuths, and women sleuths.  (Goodreads)
Iris Drake is an odd duck. She knows everyone at Artisans Alley arts-and-crafts arcade, but nobody knows her. When she walks into Gilda's Gourmet Basket on Victoria Square, she's a stranger there, too—but not for long. Yet she hasn't to come to Gilda to buy her wares—she's there to sell some of her own. All goes well until Iris's secret is exposed. Should Gilda step in to make things right, or walk away from an unpleasant situation?  (Goodreads)
After many trials and tribulations, eternal bachelor Detective Inspector Harry Falconer has finally decided to get hitched. His bride – the delectable Dr Honey Dubois!
With his trusty sergeant Carmichael as best man, Falconer is in remarkably good spirits as the big day closes in. OK, so the normally lugubrious Carmichael is having trouble getting his words out, and there's the unenlightened Mrs Falconer senior to deal with. But surely nothing serious can go wrong?
With impeccable timing, it does – will bride and groom last long enough to cut the cake, or will it all be over before it even begins?
The final instalment in the much-loved Falconer Files series by acclaimed author Andrea Frazer. (Goodreads)
 #1 New York Times bestselling author Kathy Reichs steps beyond her classic Temperance Brennan series in a new standalone thriller featuring a smart, tough, talented heroine whose thirst for justice stems from her own dark past.
Meet Sunday Night, a woman with physical and psychological scars, and a killer instinct. . . .
Sunnie has spent years running from her past, burying secrets and building a life in which she needs no one and feels nothing. But a girl has gone missing, lost in the chaos of a bomb explosion, and the family needs Sunnie's help.
Is the girl dead? Did someone take her? If she is out there, why doesn't she want to be found? It's time for Sunnie to face her own demons because they just might lead her to the truth about what really happened all those years ago. (Goodreads)
Who knew murder could be this magical?
Witch-in-denial, Hattie Jenkins, witnesses the horrific death of hard-headed lawyer, Morag Devlin. Along with her eight incorrigible moggies, Hattie and the cats must find out why Morag met her grisly end.
Weaving their way through magic and mayhem, the crew discover Morag's sinister associations with chief warlock, Gideon Shields. The charismatic governor of Cathedral Isle has a squeaky clean record, of course. But, is there more to Shields than meets the eye?
Follow Hattie and The Infiniti as they race to unravel the clues and thwart the murderer before they can strike again.
Hattie Jenkins and the Infiniti Chronicles is a light-hearted, clean and wholesome supernatural mystery series.
This is book 6. You can check out the rest here! 
1) Filthy Witch and Dead Famous
2) The Violet Countercharm
3) The Witch of Bohemia
4) The Black Diamond Curse
5) A Spell in Mag Mell
6) The Chimera Charm (Goodreads)
For Amy Simms, owner of Birds & Bees, nothing is more important than impressing her old professor, but this odd bird is about to fall to earth . . .
When her favorite ornithology professor comes calling, Birds & Bees owner Amy Simms hangs six hummingbird feeders around the shop to welcome Professor Livingston with a flock of his favorite flying creatures. But Amy soon finds that the sugar water in the feeders brings more than a swarm of hummingbirds. It also attracts murder.
Professor Livingston is just as friendly as Amy remembers, but something seems to be troubling him. When Amy pays him a visit that night, she finds the professor slumped over a table with a pair of scissors buried in his neck. And standing over his body is Rose Smith, the local bookseller, who claims she killed him. But while the police believe they have a bird in hand, Amy thinks the real killer may still be in the bush . . .
Praise for J.R. Ripley's Beignets, Brides and Bodies
"A clever, amusing cozy." —Publishers Weekly
"Ripley's entertaining second series outing is a tasty option for foodie mystery fans of Sandra Balzo and Jessica Beck." —Library Journal  (Goodreads)
BLOOD IS THICKER… Sometimes a unique talent is inherited—and such is the case for Trouble, son of Familiar the black cat detective. Trouble's rather indolent life in the sleepy town of Wetumpka, Alabama is upended when a serial killer arrives on the scene. Trouble begins to apply the skills he learned from his dad and his hero, Sherlock Holmes.
When local bookseller Tammy Lynn is attacked at the site of an impact crater, Trouble realizes he must protect his human and solve the mystery of the Silk Stocking Killer.
Aiden Waters, a local deputy, has tracked the SSK to Wetumpka. Since his wife's murder, Aiden won't risk romance, but when Tammy is endangered, everything changes. Especially their hearts.   (Goodreads)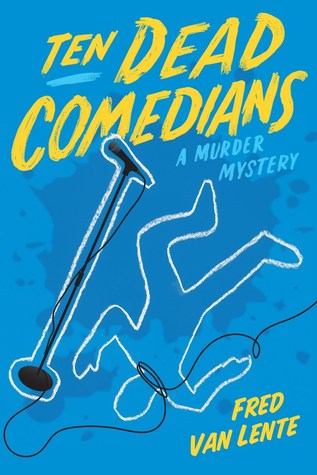 Fred Van Lente's brilliant debut is both an homage to the Golden Age of Mystery and a thoroughly contemporary show-business satire. As the story opens, nine comedians of various acclaim are summoned to the island retreat of legendary Hollywood funnyman Dustin Walker. The group includes a former late-night TV host, a washed-up improv instructor, a ridiculously wealthy "blue collar" comic, and a past-her-prime Vegas icon. All nine arrive via boat to find that every building on the island is completely deserted. Marooned without cell phone service or wifi signals, they soon find themselves being murdered one by one. But who is doing the killing, and why?
A darkly clever take on Agatha Christie's And Then There Were None and other classics of the genre, Ten Dead Comedians is a marvel of literary ventriloquism, with hilarious comic monologues in the voice of every suspect. It's also an ingeniously plotted puzzler wit
For the first time ever, the first THREE books of the well-loved Ravenwood Cove Cozy Mysteries series are together at a special price!
BED, BREAKFAST and BONES: Amanda Graham inherited a rundown bed and breakfast, a starving cat, and some dead guy who's buried in her garden!
DUNE, DOCK and a DEAD MAN: Amanda Graham should be happy with her newly-inherited historic inn, a fat cat named Oscar, and living in a small Oregon beach town, but a terrible discovery between the dunes on the coast and she's right back in the soup, trying to solve a murder and save her friend!
MISTLETOE, MOONLIGHT, and MURDER: ONE … terrible mudslide
TWO… feet sticking out of it
THREE… carats of perfect diamonds
Amanda hadn't expected snow for Christmas on the Oregon Coast, but her first winter in Ravenwood Cove brings out long-dead secrets that someone is desperately trying to hide…no matter the cost  (Amazon)
Detective Pibble returns in three more mysteries in the CWA Gold Dagger–winning series by a "master of the bizarre" (Louis Untermeyer).
Fired by Scotland Yard, James Pibble continues to solve the weirdest and most difficult cases, testing his wit while traveling to new and strange locales.
Sleep and His Brother: When Pibble arrives at McNair House after being discharged by Scotland Yard, he discovers children there with a rare disease called Cathypny, which renders them sleepy, fat, and gifted with telepathic powers. Detective Pibble suspects these children are being used as bait in an exploitative con game—and one may even be the target of an escaped killer obsessed with the supernatural.
The Lizard in the Cup: Pibble has come to the island of Hyos to protect Greek tycoon Thanassi Thanatos from the mob after he muscles in on their territory. Rumor has it the crooks are eyeing Hyos for its booming drug-smuggling industry. The mystery deepens when Detective Pibble uncovers a monastery led by Fathers Polydore and Chrysostom, who may be the richest men on the island. But a myth about a lizard called the samimithi could hold the key . . .
One Foot in the Grave: At Flycatchers, a well-to-do nursing home, Detective Pibble is mired in a listless existence—until he discovers a dead body on top of the water tower, one of several suspicious deaths. The subsequent arrival of a woman in black sets off a sinister chain of events, and before he knows it, Pibble is on the case.  (Amazon)
From USA Today bestselling author Anne Marie Stoddard comes a fabulously fashionable mystery in paradise…
After a very painful—and very public—divorce from her cheating football star husband, Kaley Kalua just wants some peace and privacy. Cramming only the essentials (clothes, shoes, and makeup) into her Prada duffel bag, Kaley returns to her hometown of Aloha Lagoon to manage her Aunt Rikki's clothing shop, the Happy Hula Dress Boutique. A new job, new friends, and a change of scenery are just what she needs to turn her life around. It doesn't hurt that Kaley's handsome childhood best friend, Noa Kahele, has also moved back to the small resort town.
Unfortunately, life on the island isn't quite the peaceful paradise that Kaley was expecting. Not everyone is thrilled about her return—especially Louana, Happy Hula's assistant manager, who thinks that she deserves Kaley's new job. And when the woman is found strangled by a bikini top from the boutique, the police make it clear that Aunt Rikki is their main suspect. But Kaley is determined to prove her aunt's innocence! Between dodging a nosy local reporter and sparring with her high school nemesis, Kaley compiles her own list of suspects. In the process, she also attracts the attention of a dangerous killer. If Kaley isn't careful, she could wind up trading her colorful wardrobe for funeral black…
The Aloha Lagoon Mysteries:
Ukulele Murder (book #1)
Murder on the Aloha Express (book #2)
Deadly Wipeout (book #3)
Deadly Bubbles in the Wine (book #4)
Mele Kalikimaka Murder (book #5)
Death of the Big Kahuna (book #6)
Ukulele Deadly (book #7)
Bikinis and Bloodshed (book #8)
About Aloha Lagoon:
There's trouble in paradise…
Welcome to Aloha Lagoon, one of Hawaii's hidden treasures. A little bit of tropical paradise nestled along the coast of Kauai, this resort town boasts luxurious accommodation, friendly island atmosphere…and only a slightly higher than normal murder rate. While mysterious circumstances may be the norm on our corner of the island, we're certain that our staff and Lagoon natives will make your stay in Aloha Lagoon one you will never forget!   (Goodreads)