Welcome to the Three Amigos Summer Reading Club.
Week five's theme for our Summer reading Club is Bed and Breakfast reads.  My selection for this week is Dead and Breakfast by Kate Kingsbury.  This is the first book in her Merry Ghost Inn series.  Her second book in this series is Doom With A View.  I enjoyed both of these books very much.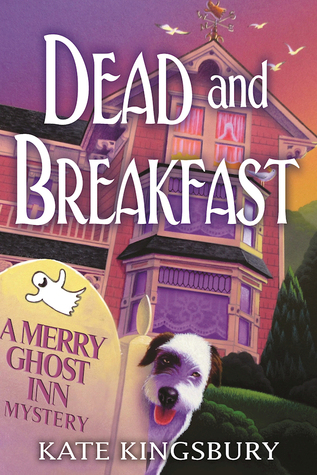 Melanie West is getting her life back on track after a messy divorce when her grandmother, Liza Harris, asks her to open a B&B with her. Together, Liza and Melanie purchase a purportedly haunted mansion on the Oregon coast and jump right into clearing out the cobwebs. But while attempting to remove wallpaper in an upstairs bedroom, the new B&B owners stumble upon a very real skeleton in their closet.
The police suspect the skeleton is that of the wife of the previous owner of the B&B, but no one in town seems to want to say much about her. As the inn owners try to juggle renovations with their own amateur investigations, their grand opening looms closer and closer–and a friendly ghost in their walls starts playing tricks. But it all comes crashing to a halt when a new body is found stabbed to death on the beach below the inn–the victim chillingly close in resemblance to Melanie herself.
It seems someone doesn't appreciate newcomers prying into the small town's past, and now it's up to Melanie and Liza to get to the bottom of these murders to save their business…and their lives. (Goodreads)
So before you book your reservation and pack you bags, grab a copy of this book to enjoy while you're away.  Happy Reading!!!
Okay, enough about me.  Let's check out what books my two amigos have picked for this week's theme.
To find out what book Karen chose, head over to her blog by following this link:
And to see what book Lisa chose, head over to her blog by following this link:
While you're at their blogs, leave a comment and let us know what you think of our Summer Reading Club.  And of course, please leave a comment at my blog.  We would all love to hear from you.