Today I have a series spotlight on the Callie's Kitchen Mysteries by Jenny Kales.  I have read all of these books and I have enjoyed them all.  I also have my review of her latest book in the series, Secrets And Pies.  Check them all out, you'll be happy that you did.
Happy Reading!!!!!!
Secrets and Pies
A Callie's Kitchen Mystery, Book #3
Jenny Kales
5 Stars
Synopsis:
If you can't stand the heat, get out of Callie's Kitchen! Greek-American restaurateur Callie Costas faces down another killer in picturesque Crystal Bay, Wisconsin.
Summertime in Crystal Bay means tourist season for Calliope "Callie" Costas, owner of Callie's Kitchen, a Greek-meets-Midwest from-scratch eatery. Business is booming but so is the stress. Callie can barely keep up with the demand for her famous summer fruit pies and savory Greek delicacies, plus she's agreed to bake dozens of "pitas" for the annual Greek Fest.
When Callie is asked to deliver cast party treats for a Murder Mystery Night at the historic Harris House, it seems like a welcome break from her hot stove. That is, until she finds herself an unwilling player in yet another suspicious death. Worse yet, the victim is a family friend and graduate student working on a project involving Crystal Bay's colorful past.
Before long, a motley crew of suspects makes things as juicy as the succulent berries strewn around Callie's Kitchen. And that's not all Callie's got on her plate. Add family obligations, a deepening romance with a local detective and unexpected personnel problems to the mix.
One thing's for sure: Callie's got the recipe for a long, hot summer!   (Goodreads)
Review:
The characters are well developed and well rounded.  I really enjoy spending time with Callie, her employees, her friends and her family.  All of these relationships are very important to Callie and  really appreciates all of these people.  When her daughter's favorite teacher, who is also one of her friends, is murdered,  she feels like she has to try to solve the mystery in honor of her friend.  I felt like this book gave us an even better understanding of Callie and I really enjoyed all of her interactions with the many great characters.
The writing style flows smoothly and the book is an easy read.  The author is very talented in her descriptive writing and through much of the book I felt I was in Crystal Bay, Wisconsin, which is a place I would like to visit.  The description of all of the food served in Callie's Kitchen made me hungry.  
The mystery was well plotted and had plenty of suspects to consider and clues to sift through.  I enjoyed all of the twists and turns and red herrings thrown in, it made the mystery that much harder to solve.  
I would recommend this book, and series, to anyone who enjoys a well crafted cozy mystery.  With great characters, a great setting and a great mystery, you cannot go wrong reading this book.
OTHER BOOKS IN THE SERIES:
Building a small business has been murder, but Callie Costas didn't expect to be confronted with an actual body. The 36-year-old Greek-American proprietor of "Callie's Kitchen," a meals-from-scratch business in an idyllic small town, has been busy creating a post-divorce life for herself, her young daughter and her Yorkie, Koukla. After a lot of hard work (including staving off her father's continual advice), she's got the locals and tourists clamoring for her delicious Mediterranean dishes and Midwest comfort food classics. Recently, she's started a budding romance with a fellow foodie, the wealthy owner and chef of Crystal Bay's most popular bistro.
However, success is as fleeting as one of Wisconsin's glorious autumn days. As local businesses begin to shut down due to a slow economy, Callie is struggling not to become another statistic. A contest with a hefty cash prize seems like the perfect chance to fix her financial woes, until a shocking murder threatens not only her livelihood – but her life.
When she's targeted as a prime suspect by an attractive expat British detective, Callie's situation becomes more delicate than her Greek egg-lemon soup. She's got to find the killer and fast if she wants to protect her daughter, save her business and stay alive.   (Goodreads)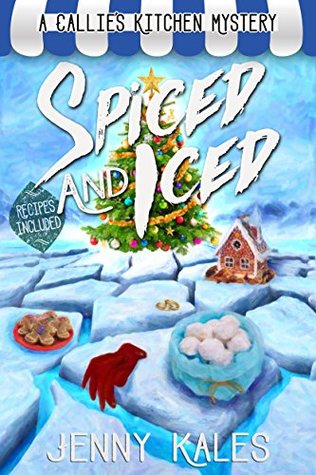 The holidays can be murder! Greek-American restaurateur Callie Costas finds herself on thin ice when a colleague is killed. Recipes included!
The season is bright when Calliope "Callie" Costas agrees to contribute her Greek snowball cookies to a December bridal shower at The English Country Inn in the scenic waterfront town of Crystal Bay, WI. But when Callie finds a colleague dead, she's sucked into another murder investigation — all while juggling her growing business and staggering holiday workload.
As she reluctantly agrees to help the Inn's owner track the killer, Callie is soon up to her spiced Greek biscotti in difficulties. For one thing, the hotel staff is freezing her out as she tries to uncover information, helped by her feisty Grandma Viv and her sweet but nosy aunt who's visiting from Greece. And then there's her deepening relationship with the suave and mysterious Detective Sands, a British expat now living in Wisconsin, who seems to have a few secrets of his own.
The icing on the cake is a host of simultaneous family mayhem including her father's surprising fixation on a real estate agent and her ex's plans to move back to Crystal Bay. As the Inn's annual Christmas Tea approaches, things are heating up in Callie's Kitchen, but she's on thin ice! Will Christmas be a festive celebration this year – or will it be murder?
Turn to the end of the book for six delicious recipes, including Greek cookies and savories, plus traditional Midwestern holiday favorites!
About The Author:
Award-winning writer Jenny Kales is the author of The Callie's Kitchen Mystery series. Her debut cozy mystery is ON THE CHOPPING BLOCK, followed by SPICED AND ICED. Book 3, SECRETS AND PIES, is now available!
Though she's worked as a writer and journalist for years, fiction writing is her first love and her marriage into a Greek-American Midwestern family inspired The Callie's Kitchen mysteries, featuring Calliope Costas, food business owner and amateur sleuth. The setting of the story, "Crystal Bay," is inspired by a favorite family vacation spot – Wisconsin's beautiful Geneva Lakes.
Kales is an avid reader, cook and baker and she's addicted to mystery TV, especially anything on Masterpiece Mystery or BBC America. She lives just outside of Chicago with her husband, two daughters and one cute but demanding Yorkshire terrier.   (Goodreads)