The Cat Of Christmas Future
Whales and Tails, Book #14
Kathi Daley
5 Stars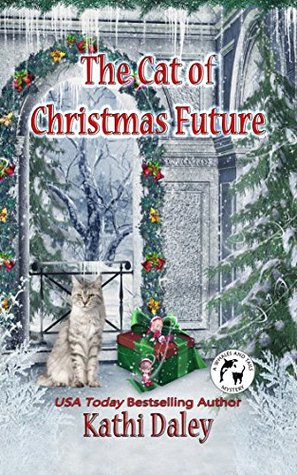 Synopsis:
As with The Cat of Christmas Past and The Cat of Christmas Present, while this holiday cozy features a mystery, it does not feature a murder.
It is Christmas on Madrona Island and the spirit of Christmas is out in full force. A cat who looks a lot like a cat from Cait's past comes to visit just as Cait and Cody are getting ready for a full lineup of holiday events. When Cait learns of the cat's true purpose for coming into her life she realizes she will need to set some of her usual routines aside in order to prevent a tragedy from occurring in the future.
Meanwhile the entire Hart Family is gathering at Maggie's as a series of personal events causes each of member of the family to seek temporary refuge in the large house.  (Goodreads)
Review:
The characters are well rounded and well developed.  Anytime I get to spend more time with Cait, Cody, and Cait's family and friends is a good time.  They all make an appearance and as usual, this author's books have a lot of family caring and compassion. And that compassion even extends to virtual strangers.  If you want a feel good read, this is the book for you.
The author is very talented in her descriptive writing, her character development and the small town community that she creates.  I found it very refreshing that there was no dead body to find.  There was a mystery and problems to solve but no one was murdered.  And the appearance of another mystical cat gave just enough magical elements to the book.  
I would recommend this book, this series and this author to anyone who enjoys a well crafted cozy.  I think if you looked up the meaning of the word cozy in the dictionary, this author's picture would be there!