Pecan Pies and Dead Guys
Southern Ghost Hunter, Book #7
Angie Fox
5 Stars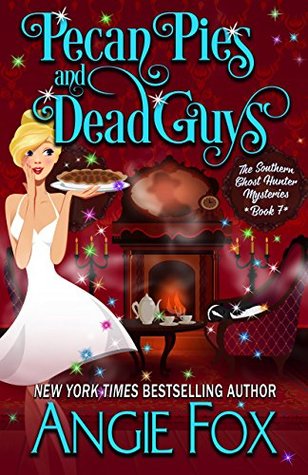 Synopsis:  
Sometimes Verity Long would like to forget that she lives with the ghost of a 1920s gangster. But the reluctant housemates must once again work together when a dead detective blackmails Frankie into helping him solve a Great Gatsby-era cold case. Before she can say "bathtub gin," Verity is dragged straight into a raging, otherworldly house party. Worse, every guest is hiding something.
Meanwhile, Ellis Wydell, Verity's living, breathing boyfriend needs Verity's help with a police case of his own. After a dead body is discovered near the pecan orchard, Verity gives her insights, thinking her job is done. But when mysterious pecan pies start arriving at her house, she wonders who might be thanking her… or stalking her.
Between hard-living ghosts and sugar-laden desserts, Verity has her work cut out for her. But will she uncover the secrets behind the pecan pies and dead guys? Or has she stumbled upon a recipe for disaster?
A warm and witty paranormal cozy mystery!  (Goodreads)
Review:
The characters are well developed and well rounded.  Anytime that I get to spend with Verity and Lucy, her pet skunk, is time well spent.  Verity and Ellis make a great couple and I enjoy seeing how their relationship is growing.  And Ellis's mother is still as nasty as ever, I hope one day she gets hers.
The writing style flows smoothly and the book is an easy read.  The author is very talented in her descriptive writing and through much of the book I felt like I was right there, watching all the ghosts in their togas, partying,  and listening in on conversations. I liked the fact that there were a couple of mysteries to solve, a long ago one and a current one. There were plenty of suspects to consider and clues to sift through and were not easily solved, which is the way I like my mysteries.
I would recommend this book to anyone who enjoys a well crafted paranormal cozy.  I am already looking forward to Verity's and Frankie's next ghostly adventure.
I voluntarily reviewed an Advance Reader Copy of this book and gave my honest opinion.