The Catsgiving Feast
Whales and Tails, Book # 17
Kathi Daley
5 Stars
Synopsis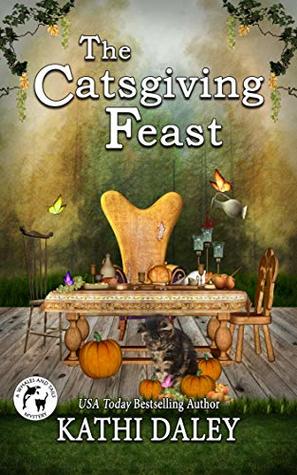 Synopsis:
A murder, a wedding, and a holiday feast converge in this warm and memorable Thanksgiving Mystery. (Goodreads)
Review:
As is usual for this author, the characters are engaging, the setting is welcoming, the mystery is intriguing and family is everything.
The characters are well developed and well rounded. Cait, her family and friends are so caring and giving. They make sure that everyone has a place to go to celebrate Thanksgiving, even when Cait is planning a wedding. When someone is killed and Cody's mom is the primary suspects, they also have to find a killer. Can the gang get all of that accomplished in time? Hopefully, Cait will have the help of another mystical cat to solve this mystery.
The writing style flows smoothly and the book is an easy read. The author knows how to craft a mystery that keeps you engaged and wanting to swipe as fast as you can to see what was going to happen next. There are always twists and turns and lots of clues to sift through.
Not only is this a great cozy mystery, it is also a feel good story that will warm your heart and make you smile. I would recommend this book and series (and all of this author's series) to anyone who enjoys a well crafted cozy mystery.