Today on my blog I have some Christmas books that I have read and really liked.  If you're looking for some fun holiday reads, check these books out.  Happy Reading.
The Tail Waggin' Winterfest is the highlight of the season in the famously pet-friendly Pocono Mountains town of Sylvan Creek. But despite attractions like an ice sculpture display, a dogsled race, and gourmet hot chocolate, Daphne Templeton finds herself annoyed by TV producer Lauren Savidge, who's filming the festivities. She's critical, controlling, and as chilly as the January air. Daphne would like to tell her to go jump in a lake—and as a matter of fact, that's exactly what they're both going to do . . .
It's the first-ever polar bear plunge in Lake Wallapawakee, and Daphne and Lauren are among the eighty or so people who charge into the frigid water to raise funds for animals in need. Daphne makes it back to shore—with the help of a mysterious St. Bernard—but Lauren is dragged out stone cold dead. Now, with her trusty basset hound Socrates at her side, Daphne intends to assist Detective Jonathan Black in his investigation—whether he wants her to or not . . .
Includes recipes for homemade pet treats! 
"Doggone charming from start to finish!"
—Cleo Coyle, New York Times bestselling author on Death by Chocolate Lab  (Amazon)
Just in time for the holidays, fans of Leslie Meier and Vicki Delany are going to want to pick up the charming third installment in Barbara Early's Vintage Toy Shop mysteries.
It's all fun and games with toyshop owner Liz McCall until deadly secrets are unwrapped upon the eve of the holidays.
Who knew? Liz McCall is not thrilled when her boyfriend Police Chief Ken Young introduces her to his estranged wife Marya. The model-quality Russian immigrant, back in East Aurora to rekindle their romance, will be working as a hairstylist at the barber shop next door to Well Played, the toyshop Liz manages for her dad. When Marya offers to help with the shop's doll rehab project, Liz can't help but offer up only a weak smile, but her secret hesitations are for naught when Marya's body is discovered in the barber shop with a hair dryer cord wrapped around her neck.
Liz's dad, retired from the police force, is asked to investigate since Ken is the prime suspect.The whole town is abuzz with the scandal and Liz has a few questions of her own, wanting nothing more than to forget the loud argument she overheard between Marya and Ken the night before. There could have been other motives… Was Marya going to cut into a competing hairstylist business? Who is the bumbling private investigator hanging around and why won't he explain himself?
All eyes are on Liz, including those of an odd matryoshka doll in the shop which seems to move of its own accord, to unravel this entertaining riddle, wrapped in a mystery, inside an enigma that is Death of a Russian Doll, the third jolly Vintage Toy Shop mystery from Barbara Early.  (Amazon)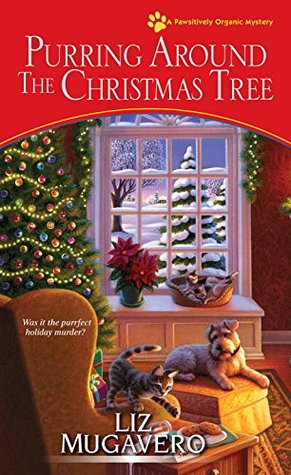 In the New England town of Frog's Ledge, the Holiday Light Festival is a Christmas tradition. Killing Santa is not. To bring joy back to the season, organic pet patisserie owner Kristan "Stan" Connor will have to find another Santa before it's too late . . .
To the townspeople's delight, the annual lighting of the tree is a spectacular success. Unfortunately, Santa pulled up in his sleigh, DOA. At first Stan is sure it's Seamus, her boyfriend's uncle, inside the red suit. But the victim turns out to be an employee from the town's Christmas tree farm. Rumor has it the deceased was a mean drunk with a soft spot for feral cats. Stan has no idea why he was dressed as St. Nick–or why he's dead.
Meanwhile, Seamus, a jolly Irishman who comes to America every December to visit his pub-owner nephew, is nowhere to be found. Could he just be off on a Boston bar crawl? Or is something more sinister under the tree? Seamus was supposed to be dressing up and posing for pet pictures with Santa at the shop, but the dogs and cats might have to find another lap to curl up in if Stan doesn't solve two mysteries soon. Or murder might be the only thing under the mistletoe this holiday . . .
Includes Gourmet Pet Food Recipes!  (Amazon)
A man dies during a dinner party Zak and Zoe are attending, Alex has a famous friend staying with her, a suspicious federal agent shows up creating more questions than answers, and what should be a fairly cut and dried murder investigation turns into a complicated mess which makes it difficult to tell the good guys from the bad guys.
Meanwhile, Levi and Ellie are thrilled when Baby Denton makes an early appearance, and Zoe's mom Madison is at the end of her rope after taking over as chairperson for Hometown Christmas, which for unknown reasons, seems to be fraught with problems.
It's funny, it's family, it's a Zak and Zoe holiday mystery. (Amazon)
Don't get your tinsel in a tangle…
It's Christmastime in Cottonwood, Kentucky, and Sheriff Kenni Lowry is determined to keep the peace. Vivian Lowry, Kenni's Mama, is having a Christmas-size hissy fit because Kenni plans to spend Christmas in Chicago with her Deputy Sheriff-turned-boyfriend Finn Vincent and his family.
Plus, the snowstorm of the century is headed right toward Cottonwood, leaving the residents in a frantic frenzy and potentially derailing Kenni's Christmas plans with Finn.
If that's not enough to dampen the Christmas spirit, the ghost of Kenni's grandfather—the ex-sheriff—makes an appearance, and that means only one thing: there's been a Christmas murder, and there's a tinsel-wrapped victim at the center of it.
Relying on her Poppa more than ever, Kenni uses him as the Ghost of Christmas Past to help solve the murder, but will it be in time for her to save Christmas in Cottonwood and hop on her plane to meet Finn's family?
– – – – – – – – – – – – –
TANGLED UP IN TINSEL by Tonya Kappes | A Henery Press Mystery. If you like one, you'll probably like them all. (Amazon)
Steve Huntington had a way of offering jobs that were too good to be true. Mark Huntington made offers too good to turn down. Sedona had a habit of being caught in the middle; somewhere in the proximity of bad guys with guns and family members she was trying to avoid. Good thing the latest case involved a hospital. Then again, not all hospital personnel were interested in the lasting health of the patients…or that of their co-workers. Executive Sick Days is book three in the Sedona O'Hala series. Book one is: Executive Lunch. Book two is: Executive Retention.  (Amazon)
Feline deadly this Christmas . . .
Whisker Jog, New Hampshire, celebrates all things Christmas, and few things are more beloved than the town's annual holiday cookie competition. Lara Caphart, who runs the High Cliff Shelter for Cats with her Aunt Fran, is waiting for the green light for a brand-new category: pet-friendly cookies. But when the woman filling in as a last-minute judge dies after sampling someone's Santa-themed treat, Lara's recipe for healthy cat snacks will have to be put on the back burner.
The victim, Gladys Plouffe, was the town's roundly despised former home economics teacher. The chief suspect is the mother of Lara's best friend, who was hellbent on walking away with the bake-off's cash prize. Cryptic clues from beyond the grave only deepen the mystery, pointing to a cat with striking blue eyes—a cat who bears an uncanny resemblance to Lara's mysterious Ragdoll. As Lara begins a dangerous game of cat and mouse, not even her significant other may be able to stop a perfectly clawful killer from getting away with the purr-fect crime . . .
Praise for Linda Reilly's Mysteries
 
"I was kept guessing until the final chapter. . . . A perfect cozy mystery."
—Susan Furlong, author of the Georgia Peach Mysteries, on Escape Claws
 
"I thoroughly enjoyed this puzzler of a mystery. Reilly cooks up a perfect recipe of murder and mayhem in this charming cozy." 
—Jenn McKinlay, New York Times bestselling author of the Hat Shop Mysteries, on 
Fillet of Murder
 
"Smart, sassy, and a little bit scary. Everything a good cozy should be!" —Laura Childs, New York Times bestselling author of the Tea Shop Mysteries, on Fillet of Murder  (Amazon)
While Kay attends a Christmas tea at Hawthorne Hills Retirement Home, a beloved caretaker dies from an allergic reaction to peanuts. When the official coroner's report rules the cause of death to be accidental, a small group of residents suspect foul play and call upon Kay to investigate.
Kay uncovers sinister plots of fraud, revenge, and corruption at the Home. During this season of peace on earth, good will to men, additional murders occur. Despite multiple attempts on her life, and with the support once again of her best friends, Elizabeth and Deirdre, Kay continues her quest for bringing justice for the victims. Kay's first Christmas in Sudbury Falls is an unforgettable one, with equal amounts of celebration and danger. 'Tis the season to be sleuthing!  (Amazon)