Deadly Vows
A Britton Bay Mystery, Book #2
Jody Holford
5 Stars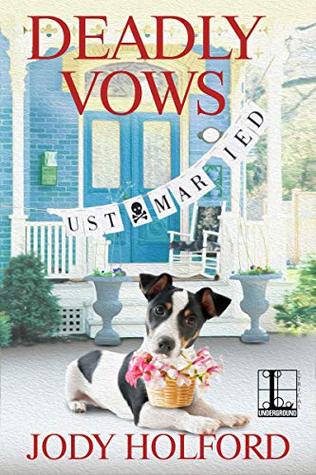 Synopsis:
Former Army brat Molly Owens is happily settling into her new life in the seaside town of Britton Bay—and into new her job as editor-in-chief of the local paper. But as tourists discover the desirable spot, the tide along the Oregon Coast is turning . . .
Britton Bay is buzzing with preparations for a wedding at the bed and breakfast where Molly rents a small carriage home. Molly is even helping out and plans to interview the rising star caterer—until the woman is found dead. And then the bride-to-be goes missing. To make matters worse, the venue is owned by Molly's new boyfriend's mother—and Molly was among the last people to see the victim alive. All of which makes solving the crime her top priority . . .
With the nuptials indefinitely on hold, Molly will have to sift through a sticky mix of suspects, including a rival caterer with a short fuse, a groom with an illicit secret, and a wedding party riddled with personal drama. And if she doesn't discover the truth soon, Molly might be her own front-page news . . . (Goodreads)
Review:
The characters are well developed and well rounded. Molly is smart and hardworking and she loves investigating (which is good because she works for a newspaper). So when there is a murder in her small town it is only natural that she wants to solve it. I liked getting to spend more time with Molly and learning a little more about her and her thoughts and feeling. Sam, Molly's boyfriend, seems like a great guy and it was fun reading about their interactions. I thought that the secondary characters added a lot to the story.
The writing style flows smoothly and the book was a quick easy read. The author is very talented in her descriptive writing and those descriptions pulled me into the story right from the beginning. The mystery was well plotted and with so many twists and turns,it was not easily solved.
I would recommend this book to anyone who enjoys a well crafted cozy. And in this case, you can judge a book by it's cover, which is adorable.
I voluntarily reviewed an ARC of this book provided by the publisher, Kensington Books, and NetGalley, which I greatly appreciate.