Here is a list of some of the new releases for the week of June 4th, 2017.  Since there were so very many books this week, I am going to divide them between the next four days. Here is the third day of my list.  Hope you find some selections for your weekly reading. Enjoy and happy reading.
In the latest novel from The New York Times bestselling author of Knit to Be Tied , Kelly Flynn and The Lambspun Knitters are eagerly awaiting a bundle of joy but find themselves heaped with trouble instead…
Kelly Flynn and her boyfriend, Steve, couldn't be happier as they await the birth of their bouncing baby boy. Kelly's got a built-in group of fiber arts specialists, the Lambspun Knitters, who are working away on blankets and booties. As they sit around the table crafting their keepsakes, the story of Giselle Callahan is a popular topic of conversation.
Giselle is the young wife of Henry Callahan, a Fort Connor banking scion, who traded in his previous wife of forty years for a newer model. Giselle's prowess as a skilled country club golfer and social climber puts her on someone's hit list. When she is found dead on the greens at the golf club, Kelly and her Lambspun crew worry that a vicious killer is in their midst. They must work fast to bring an unhinged murderer to justice on the back nine before Kelly's very special delivery…
DELICIOUS RECIPES AND KNITTING PATTERN INCLUDED!   (Goodreads)
Jake Crawford only wants three things: To impress his wife, to raise funds for his charity, and to enjoy a good dinner, but old family crimes come back to haunt him. When Jane is tasked to solve the mysteries, she has to summon up new Miss Marple-like skills of deduction. After all, not everyone wants their secrets to get out.  (Goodreads)
Welcome to Fortune Falls, where there are no falls, no one has a fortune, and death is always in the cards.
Broke, newly divorced and pushing thirty, Dee Dee Fortune returns to her hometown after years of avoiding the place that bears her family name. On the plus side, she's happy to be reunited with her sister and grateful for her job at a local antique shop. And it certainly doesn't hurt that there's a hunky new detective in town.
But when Dee Dee's former BFF is murdered and her high school sweetheart is the prime suspect, Dee Dee is swept into the hunt for the real killer. That decision, though, might just get her real dead.   (Goodreads)
Donna needs a getaway, and fast. After some gentle nudging from her best friend Janice, they set sail on the high seas with visions of sipping exotic drinks and relaxing under the sun. But just as Donna begins to unwind, she discovers half the town is coming along for the ride, including her mother, brother, and her very pregnant sister-in-law.
Less than forty-eight hours later, a guest inexplicably plummets to his death, and you-know-who has a whole other case on her hands. So much for fun and sun. Now she must don her sleuth hat and get to work.
Can Donna solve the case in time to enjoy some much-needed R R?  (Goodreads)
Spencer Murphy is a national treasure. A famous correspondent during the Vietnam War who escaped captivity in Southeast Asia, he made a fortune off of his books and television appearances. But Spence is growing forgetful with age; he's started to wander and even fails to come home one night. When a body is discovered at Step Above, the sprawling Murphy house near Steps Beach, Nantucket police detective Meredith Folger is called in to investigate.
The timing couldn't be worse: It's the Fourth of July, Merry's planning her wedding to cranberry farmer Peter Mason, and her new police chief is gunning for her job. Merry is inclined to call the death at Step Above a tragic accident . . . until another member of the Murphy clan comes to a brutal end. As Merry grapples with a family of unreliable storytellers—some incapable of recalling the past, and others determined that it never be known—she suspects that the truth may be forever out of reach, trapped in the failing brain of a man whose whole life may be a lie.  (Goodreads)
The chili in Texas is red-hot . . . and so is murder!
Phyllis, Sam, Carolyn, and Eve head for West Texas to compete in a Fourth of July chili cookoff. Thousands of people have descended on a sleepy little ghost town, turning it into a boomtown for chili mavens, gamblers, musicians, and media. Raucous excitement fills the air, but so does chili when a sabotaged propane cooker explodes, killing the much-hated current champion. The victim leaves behind a tangled trail of sleeping with other men's wives, cheating at cards – and maybe at chili cooking – and deadly anger. With Sam a possible suspect in the murder, emotions run hot as a bowl of Texas red as Phyllis has to untangle these threads in order to put her finger on the killer!
Livia J. Washburn's beloved Fresh Baked Mystery series is back with another novel full of tasty recipes, dastardly doings, and brilliant sleuthing by Phyllis Newsom and her friends. THE GREAT CHILI KILL-OFF is a delicious dish of murder and detection.  (Amazon)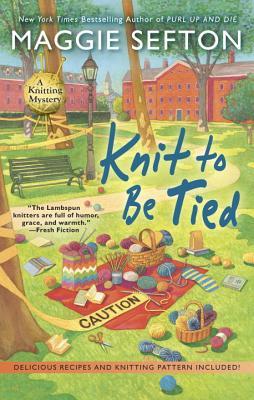 The New York Times bestselling author of Purl Up and Die returns as Kelly Flynn and the Lambspun Knitters must come together before their whole town unravels . . .
In Fort Connor, Colorado, the friends at the House of Lambspun knitting shop are welcoming a new face into the fold. Shy, sweet, and pregnant Nancy Marsted would like to knit a baby hat, and the Lambspun ladies are more than happy to show her the ropes. They share their own pregnancy yarns and soon learn the father of Nancy's baby isn't quite the man she dreamed he was. He's a cad.
Then one dark night a speeding car fatally mows down the dad-to-be and strikes a cyclist, spinning the town into a frenzy. Everyone worries that a crazed killer is on the loose. Now it's up to Kelly and the gang to put down their needles and cut to the chase before the culprit is driven to kill again . . . (Goodreads)
Murder hits close to home for the Southern Sewing Circle in the latest mystery from national bestselling author Elizabeth Lynn Casey.
Everyone in Sweet Briar, South Carolina, knows former high school football stars Jake Davis and Noah Madden. The two were fierce rivals once and now, twenty years later, the dueling quarterbacks haven't lost their luster. So townsfolk are surprised when Jake and Noah team up for a business venture. And there's only one suspect when Noah turns up murdered.
Margaret Louise, Jake's mother and one of the founding members of the sewing circle, isn't about to take the attack on her son's reputation lying down. In fact, she's in full mama-bear mode. And Tori and the rest of the Sweet Briar gang are more than willing to help her sharpen her claws to catch a killer.
PATTERN AND SEWING TIPS INCLUDED   (Amazon)