Sowed To Death
Farmer's Daughter Mystery, Book #2
Peg Cochran
5 Stars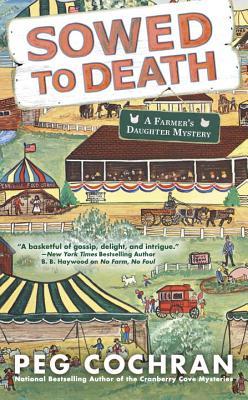 Synopsis:
In the latest Farmer s Daughter Mystery from the national bestselling author of No Farm, No Foul, farm owner and blogger Shelby McDonald must field another murder mystery….
The county fair is the highlight of the year for the small town of Lovett, Michigan especially for food-and-lifestyle blogger Shelby McDonald, who writes as the Farmer s Daughter. She s submitting jams and jellies she s created from the produce she grows at Love Blossom Farm in hopes of harvesting a blue ribbon.
But the townspeople get more than just the excitement of hayrides, tractor pulls, and cotton candy when Shelby s neighbor and volunteer fireman, Jake Taylor, extricates the body of Zeke Barnstable instead of a dummy during a demonstration of the Jaws of Life. The fact that Jake and Zeke were known to be at odds plants suspicion in the minds of the police. As evidence against Jake grows, Shelby knows she has to plow through the clues to weed out the true killer and save her friend."  (Goodreads)
Review:
Sometimes when you read a book, something just clicks.  I do not know why it happens, I just know that it does.  That is what happened when I read this book.  I enjoyed it a lot.
The characters are well developed, well rounded and three dimensional.  Shelby is a hardworking smart woman.   She runs a farm, writes a blog and is raising two children by herself, since her husband died.   I really like the fact that Shelby is an older woman with two children (who are not perfect) to raise, I think it made the book more believable.  So many cozies have a protagonist who is young and has friends that help her solve the mysteries.  With her being a mom and older, I felt like she was easy to relate to.  She has three possible love interests and it will be interesting which one she chooses.       
The mystery is carried on well throughout the book.  There were enough suspects to consider and clues to sift through that it was difficult to figure out the culprit.   Throw in a couple of red herrings and even the most experienced armchair detective will be stumped.
The writing style flows smoothly and the book is an easy read.  The author is very talented in her descriptive writing and through much of the book I felt like I was right there watching all the action taking place.  I enjoyed the blog entries that appeared every so often in the book.  Not only did the blog offer some useful advice, it also allowed the reader to know some of Shelby's thoughts and feelings.  I thought this a good way to help everyone connect with her even more.
I would recommend this book to anyone who enjoys a well crafted cozy mystery.  With the characters, the story line, the mystery and the setting, this is a near perfect cozy read.
I received a free copy of this book from NetGalley in exchange for a honest review.  I would like to thank NetGalley and Berkley Publishing Group for the opportunity to read and review this book.